Can I Use a Telehandler?
The telescopic handler is a multi-use piece of equipment that can be found under many names. Also called a telehandler, teleporter, reach forklift, boom lift, lull or cherry picker, the telehandler is often used in agriculture to move hay and hay bales. A hybrid crane-forklift, a telehandler can also be fitted with other attachments like a bucket, muck grab, or winch. It can also be fitted with a platform attachment to act as a boom-lift.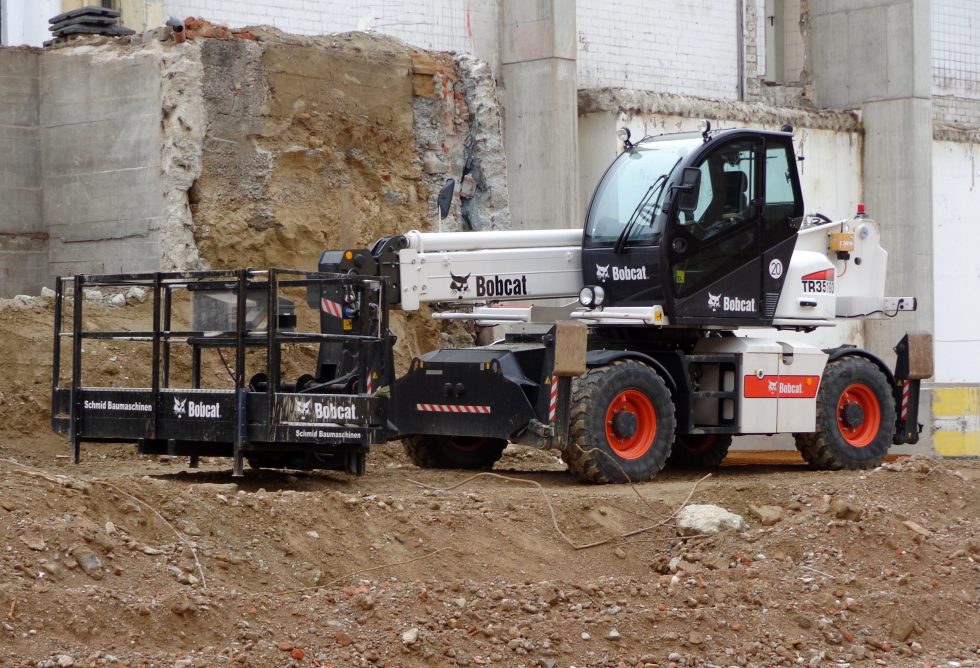 The extendable boom on a telehandler can usually be elevated at a 70 degree angle and extend out as far as 30 feet or further. The max weight restriction of an individual telehandler is determined by a mix of factors including boom extension, angle, the type of attachment and wind speed.
Telehandlers have a maximum lift capacity ranging from 4,400 to 12,000 lbs, depending on the size of the equipment. However maximum lift capability cannot be reached at maximum reach and should always be used with care.
Mainly used in agriculture the telehandler is growing in popularity outside of the agriculture industries and are now seen on construction sites and manufacturing plants among others. They can be used for a variety of jobs including moving heavy loads off trucks, cleaning up sites, moving materials and ploughing snow.
Common Uses of Telehandlers
The telehandler is a truly versatile piece of equipment. The extendable boom and ability to use a variety of attachments gives the telehandler many different applications.
Primarily used as a "lift and place" tool, the telehandler is seen as a more advanced forklift since it has a greater extension ability than a traditional forklift.
It can be fitted with pallet forks, a bucket, lifting jibs, sweeper and work platforms to perform jobs like lifting and moving material, moving loads of earth, cleaning worksites, lifting workers to an aerial height or even snow removal.
Forks are the most common attachment for a telehandler as the boom allows for easy lifting of materials and cargo from the ground up to aerial heights. Compact or midsize telehandlers can be used indoors to move and transport items in warehouses or manufacturing plants. The application of a platform attachment can make it easier for warehouse workers to work at heights if a boom or scissor aerial lift isn't an option.
Forklift and bucket attachments are available in a variety of shapes and sizes to allow for easy scooping, loading, lifting, and moving of material from the ground to a loft or to load into a truck. These applications are helpful in both construction and agriculture.
Telehandlers have applications for all four seasons. In the winter telehandlers can be used for snow removal. Since the machine sits very low to the ground they are great for plowing snow in parking structures. Traditional tractors or even trucks can be too big for certain areas making the telehandler a great tool or snow removal. Metal Pless is a brand of snow plows that can be used for telehandlers.
Choosing the Right Telehandler for the Job
Telehandler rentals listed on CITY EQUIPMENT are organized by lift capacity and forward reach. It is important to have an understanding of the job requirements before renting a telehandler. This can direct what lift capacity and reach the telehandler should have as well as what types of attachments should be added to the rental.
Attachments and Accessories for Telehandlers
There are a variety of attachments and accessories which can be added to a telehandler. They help to diversify the ability of the machine and help make it an efficient tool for a number of jobs. Examples of telehandler attachments include:
- Side-tilt carriage
- Material bucket
- Cubing forks
- Pallet forks
- Lumber forks
- Grapple buckets
- Work platforms
- Truss jib
- Trash hopper
- Snow plow attachment
The Lull Telehandler
The Lull telehandler was created in 1959 by Legrand "shorty" Lull in minnesota. His company became Lull Engineering Inc in 1963, then was acquired by Stamatakis Industries before declaring bankruptcy in 1992.
At this time it was purchased and owned by a man named Badger Bazen from Johnsonville, S.C. who changed the name to Lull Industries and finally Lull International. Over the next few years the Lull name was passed around some more, joining The Harbour Group of St Louis in 1996 which made it a division of SkyTak. In 2003, after a few more company ownership shuffles, JLG acquired the Lull name and used the brand recognition to lead the way for the North American telehandler market.
Despite the many twists and turns that the Lull name has seen it grew to become a recognized brand name for a telehandler. In fact it has been used synonymously for the term "telehandler" and some people refer to the machine simply as a "lull".
A division of JLG, the Lull telehandler line is on it's way to extinction. JLG announced in 2014 that they would cease all production of Lull telehandlers in 2015 but would continue to service Lull telehandlers beyond that time. This decision was made in response to a market decline for Lull telehandler models and increased EPA (Environmental Protection Agency) engine standards.
The Lull models of telehandler are the Lull 644E-42, 944E-42 and 1044C-45 Series II.
Current Manufacturers of Telehandlers
JCB
Joseph Cyril Bamford established JCB in 1945 and has been pioneering the idea of the telehandler since 1977. Today JCB is one of the world's top equipment manufacturers with over 2,000 dealer locations in over 150 countries.
The original JCB telehandler - the JCB 520 Telescopic Handler - was launched by Joseph Bamford among a blaze of glory and publicity in 1977. It took the industry by storm and lead to the development of the JCB Loadall range of products. Within two years the company developed a two-wheel and four wheel version of the machine with a variety of attachments. Today the Loadall range continues to be one of its most successful product lines.
Caterpillar
One of the most recognized names in construction today, Caterpillar was started by Benjamin Holt in 1907 when he invented the continuous track system for machines. When he saw how it crawled along the ground, dubbed it the caterpillar and the rest is history. The company was officially formed in 1925 and has since grown into a global corporation that leads the way for construction machines and innovation.
Today Caterpillar has 11 different models of telehandlers, ranging from max lift heights of 18 - 54 feet. The CAT TH255C is their smallest model with a rated load capacity of 5,500 lbs and a maximum lift height of 18,37 feet.
Bobcat
Bobcat is the transformational brand of Melroe Manufacturing Company. Edward Gideon Melroe founded the company in 1947 and in 1962 took on the design of the Melroe Bobcat skid steer. The skid steer gained such popularity that it eventually started doing business under its own name: Bobcat Company.
Since then Bobcat has continued to deliver equipment innovation. It also started manufacturing telehandlers. The Bobcat VersaHANDLER is a popular telehandler which offers increased lift height, reach a capacity to increase the capacity of the machine. The company then went on to develop a selection of attachments for the VersaHANDLER.
JLG
John L Grove founded JLG in 1969 and sold their very first boom lift in the 1970s. Since then JLG has expanded into scissor lifts, trailers and even telehandlers. They now have two varieties of telehandlers: the JLG High Capacity Telehandlers and the standard JLG Telehandler.
Their standard telehandlers all feature a Tier 4 Final engine to make the machines more fuel efficient and better for the environment. They have life capacities ranging from 5,500 to 12,000 lbs and can reach heights up to 55 feet. JLG designs their telehandlers with ultra-strong booms which make them notorious to reach higher and further than any other brand.
Potential Hazards & Safety Protocols for Telehandlers
As it is with any type of heavy machinery operation, use of a telehandler requires training and planning to help ensure safe operation. Never operate a telehandler without first receiving proper training. Never operate a telehandler on a jobsite if it is not safe to do so. There are a number of reasons, like bad weather, excessive loose materials and debris in the work area, wet or muddy terrain or high wind speeds, which can increase the safety hazards of using a telehandler. Always follow safety procedures and take the time to plan accordingly before beginning to work with a piece of machinery.
There are a number of safety hazards specific to telehandler operation. These include:
1) Load Safety
Exceeding a load capacity of a telehandler could damage the boom or attachment. It also increases the hazard of tipping the machine which puts both the equipment operator and those working around the equipment in danger. Never lift more than the machine can handle and always use the proper attachment for the job.
Another piece to load safety is to always secure all loads accordingly. Telehandlers are used primarily for material handling and moving so it is vital to secure all loads accordingly every time material is being transferred. This also applies to the platform attachment: always ensure that anyone working on a platform is properly harnessed and wearing personal protective equipment (PPE). Check the guard rails of the platform for safety and stability. Report any discrepancies and never use a piece of equipment that is not safe.
2) Terrain Safety
While telehandlers are designed to be tough machines ready for any kind of terrain there is still a level of danger for certain terrains. Steep slopes or inclines can affect the center of gravity of a machine, especially when carrying a load. This could also lead to the tipping of a machine. Always survey a worksite before beginning to work and use the platform stabilizers
accordingly.
3) Preventative Maintenance
Just like with any equipment proper upkeep is the key to a long life of functional machines. Keeping up with oil changes, greasings, monitoring damages and taking care in storage and tire maintenance can ensure that a telehandler can be used for years to come.
The History of the Telehandler
Originally called the "telescopic forklift" the very first telehandler was created in 1977: the JCB 520 Loadall Telehandler. The 520 was a two-wheel drive machine which combined the forklift, crane and backhoe into one Frankenstein machine. The industry was blown away and it became very popular very quickly. Within a year JCB introduced a four-wheel version of the machine with a number of other attachment types.
A number of other brands began manufacturing their own telehandler machines such as CAT, JLG and Bobcat. Modern telehandlers are able to reach up to 65 feet in the air and carry more than 20,000 lbs. They are now being recognized for their diversity in manufacturing and construction. More recently telehandlers have been seen as a tool for snow removal.
With the construction industry prioritizing project efficiency the value of the telehandler is on the rise.
Telehandler - FAQ
Can a telehandler be driven on the road?
A telehandler must be registered and licenced to be driven on a public road but it can be done. It is important to take the proper steps to safety transport a telehandler or any other machine on a public road.
How much weight can a telehandler lift?
The amount of weight that a telehandler can lift is determined the reach and load weight of the material that is being moved. Its lift capacities range from 5,000 - 15,000+ lbs all depending on these two factors.
Can I rent a telehandler?
Telehandlers can be rented. You can search for telehandler rentals on CITY EQUIPMENT by their lift capacity and forward reach.
How long can I rent a telehandler for?
Telehandlers are available to rent by the day, week, or month. CITY EQUIPMENT offers same day delivery, 24/7 rentals and a rental credit service to make renting equipment as easy as possible.
How much does it cost to rent a telehandler?
The cost to rent a telehandler depends on the length and location of a rental as well as the capacity of the telehandler. View all search options on CITY EQUIPMENT to see all prices in one place with one search.