Standard Hand Signals as outlined in 29 CFR Part 1926 Cranes and Derricks in Construction Final Rule – released in 2010.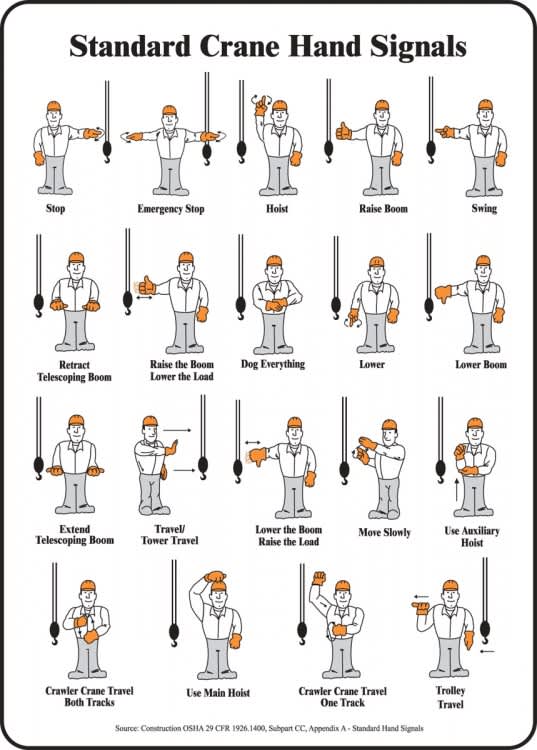 The Role of a Crane Hand Signal Person
As the eyes and the ears of a dedicated area or crane, a crane hand signal person carries many responsibilities.
Before a person can direct the operation of a crane they must first undergo formal training and complete a qualification in crane signaling.
The Occupational Safety and Health Administration (OSHA) standard method of signaling must be used when operating a crane unless non-standard crane hand signals are discussed during the pre-job meeting.
Hand signal charts must be either posted on the equipment or conspicuously posted in the vicinity of the hoisting operations. [75 FR 48153, August 9, 2010]
OSHA enforces standards and training requirements for safe working environments across multiple industries, including construction in the United States.
Did you know that OSHA's online newsletter provides the latest news about enforcement actions, rulemaking, outreach activities, compliance assistance, and training and educational resources?

You can join more than 300,000 subscribers who rely on QuickTakes for information about workplace safety and health. QT is free and distributed twice monthly. Starting in 2018, QuickTakes subscribers began receiving occasional "Did You Know?" messages informing them of OSHA safety resources.

It's easy to subscribe for either email or RSS feed at the OSHA QuickTakes web page.

QuickTakes is emailed free twice monthly to more than 320,000 subscribers. You can receive it faster and easier by subscribing to the RSS feed that delivers almost instant information.

Visit OSHA's RSS Feeds webpage to subscribe.
Did You Know?
COVID-19 vaccines are available at no cost to everyone age 12 and older living in the United States, regardless of immigration or insurance status. Visit vaccines.gov to find a vaccination site near you and schedule an appointment.