Can I Use a Boom Lift?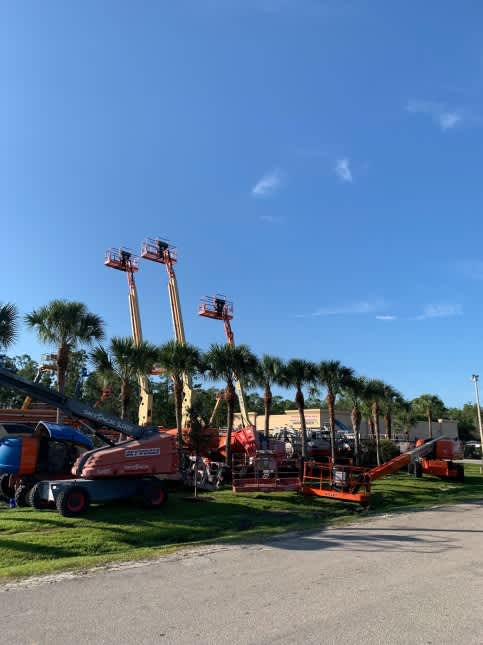 Many construction projects take place in hard-to-reach areas that are far off the ground. A ladder isn't sufficient to access a work area where you have challenging tasks to take care of. You need a stable platform that will keep you safe as you tackle the work at hand. Boom lifts can help you reach elevated areas
Boom lifts make reaching difficult places and heights easier than ever. Providing a more secure workspace at high heights than with a standard ladder or man lift, the boom lift provides a safe way to get work done at any elevation. A type of aerial lift, boom lifts allow for both horizontal and vertical reach. Boom lifts can be a helpful piece of equipment for outdoor jobs, industrial tasks and construction projects. Boom lifts allow for a higher reach than scissor lifts but typically have a smaller work platform.
The basic components of a boom lift are a platform or bucket with a long arm which is attached to a grounded base. The arm is controlled by a hydraulic lift system that allows it to extend out and up to carry people or materials to new heights.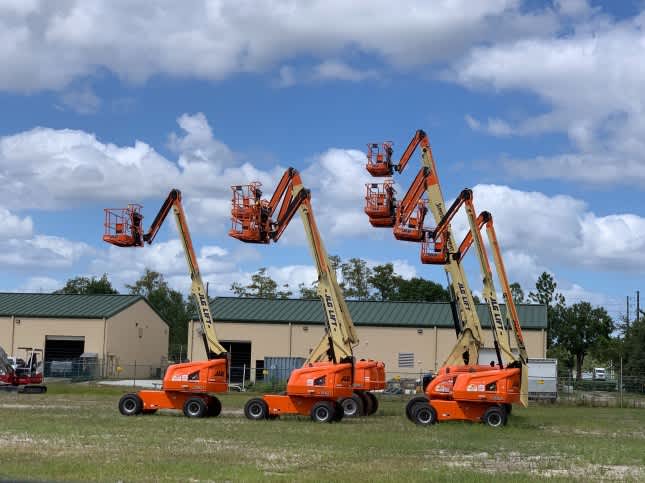 There are two main types of boom lift: articulating boom lifts and telescopic boom lifts. Articulating boom lifts have arms that bend while telescopic boom lifts have straight arms. Telescopic boom lifts have higher weight capacities while the bending ability of an articulating boom lift makes it easier to move the bucket around objects.
Different Ways to Use a Boom Lift
Whenever a project calls for work at elevated heights, contractors choose a boom lift. Increased stability, easy mobility and higher capability offers increased safety of workers working at heights and can help make a project both safer and more efficient.
Boom lifts can be a helpful tool when doing projects in the air. These projects include but are not limited to:
- Erecting scaffolding
- Fruit picking on farms
- Painting walls and ceilings
- Lighting work
- Hanging signs
Choosing a Boom Lift
Boom lifts are best used when something higher than a forklift is needed. A boom lift can be fitted with tires, treads or track and have two-wheel or four-wheel drive. They can be used outside or inside and fueled by either diesel, gas, electricity or a mix with hybrid power.
Boom lifts also come in a variety of sizes, platform heights and boom capabilities. There are straight and articulating boom lifts in a wide range of platform heights. Many boom lifts, including telescoping boom lifts, have self-leveling capabilities so that operators can set them up and start using them in a short amount of time.
Asking an array of questions can help to navigate the options and prioritize what is required to make the boom lift a good fit for the job. A few examples of questions to ask and things to consider are:
- What type of movement do you need?
- How high do you need to go?
- How many people and how much material do you need to move?
- What are the jobsite conditions?
- What kind of power source capability do you have on site?
- What are the space restrictions of the jobsite and work area?
The answer to these questions will point at the platform height, boom type, whether it should be tracked or wheeled with two or four-wheel drive. This helps contractors to determine whether a boom or scissor lift is the better option to rent.
The Two Types of Booms
A boom refers to the arm like piece that connects from the platform to the grounded base. It is an extensible crane-like arm that uses hydraulics to extend and contract to achieve the desired height. There are two distinct types of boom that a boom lift can have: A telescopic boom or articulating boom.
A Telescopic Boom Lift
Also called a straight or stick boom lift, a telescopic boom lift features a single hinged extendable arm that can stretch out across the distance. A telescopic boom lift is best used for work in open spaces or on rectangular structures.
An Articulating Boom Lift
Also called a knuckle boom lift, an articulating boom lift features a variety of "arms" which can move the platform into tight spaces or around obstacles. An articulating boom lift is best used for complex structures or in tight and crowded spaces.
CITY EQUIPMENT offers a variety of boom lifts available for rent with all types of attachments. Contractors can search and rent boom lifts on CITY EQUIPMENT or by calling 1-844-997-0150.
Popular Models of Boom Lifts
Although the "right" boom lift differs depending on the nature of a project there are still example models that are popular in the industry. Here is a look at a few of those models.
Skyjack SJ46 AJ Articulating Boom Lift
The SJ46 AJ articulating boom lift is features a standard four-wheel drive system with an operator-controlled locking rear differential and limited slip front differential. The platform is 30 X 60" and fitted with work lights, tool caddy and operator horn. With tire options of air-filled, foam-filled or high flotation air-filled tires, this boom lift can be personalized for your needs.
Genie SX-180
The highest reaching telescopic boom lift, the Genie SX-180 has a maximum working height of 186 ft and a maximum horizontal reach of 80 ft. The platform can hold up to 750 lbs. Built to safely and quickly move operators up to the sky, the Genie SX-180 can be used in oil and gas industries, industrial maintenance and construction and general maintenance applications.
Snorkel A46JE Articulating Boom Lift
A battery-electric articulating boom lift, the A46JE is a mid-sized aerial lift that features two-wheel drive and is capable of easily lifting two people with tools up to do any job. This lift has a maximum working height of 52.5 feet and a horizontal reach of just over 24 feet. The A46JE is fitted with a tilt alarm, horn, drive motion alarm and a standard hour meter and on-board diagnostics display.
Current Manufacturers Of Boom Lifts
Many companies have joined Ted and JLG to start manufacturing their own lifts. Skyjack and Genie are among the two most popular but there are other brands as well.
JLG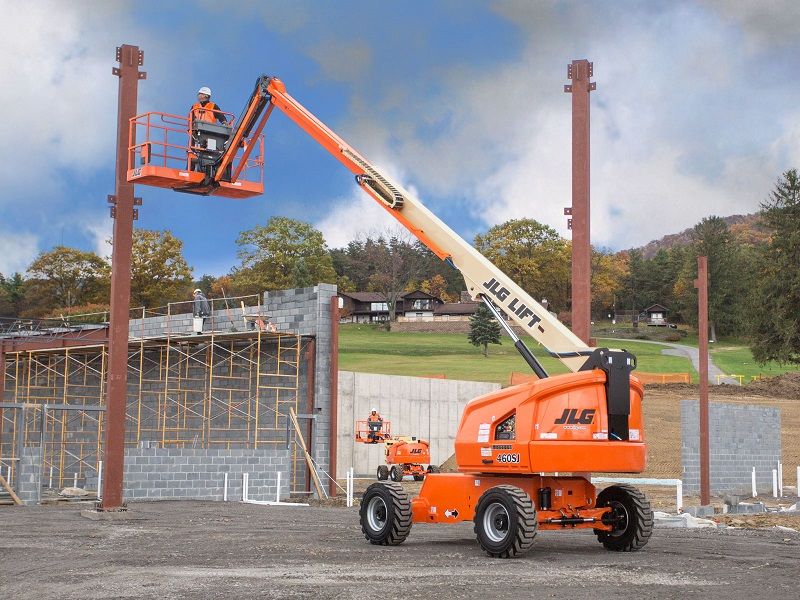 JLG was founded by John L. Grove and since selling their first boom lift in the 1970s, the company has taken charge with lift innovation. Since then the company has expanded into scissor lifts, telehandlers and trailers. Their lifts are not limited to construction and labour industries but are also used in airports, convention centers, fire halls and military bases among others. From 20-feet to the massive 185-feet lift there is a JLG lift for any project.
Skyjack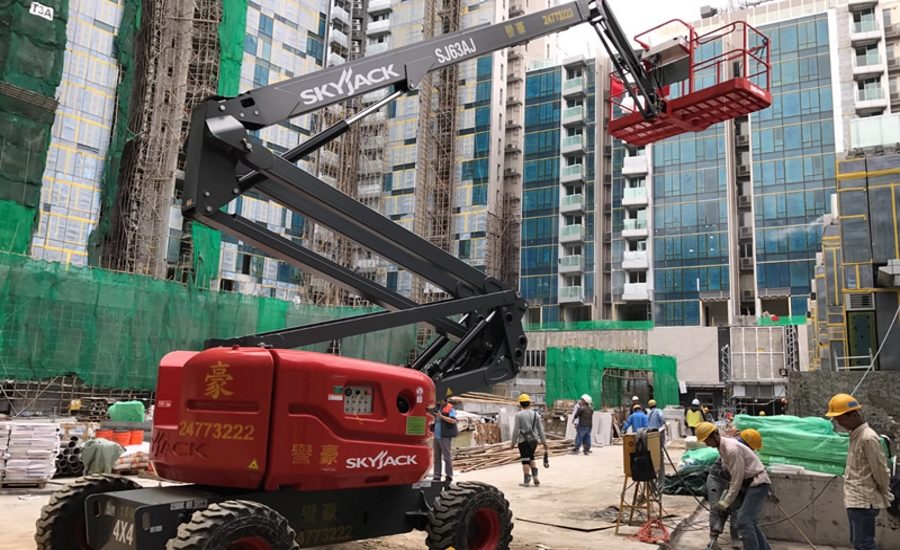 Founded in 1985, Skyjack entered the lift industry with scissor lifts. The company was acquired by Linamar Corp in 2002. In 2007 and 2008 the company got two telehandler lines from Carelift Equipment and Volvo respectively. The company now holds over 30% of the global boom lift market and is the most popular scissor lift manufacturer in the world. Skyjack now produces both articulating and telescopic boom lifts as well as telehandlers and scissor lifts.
Genie
A brand under the Terex family, Genie was first founded in 1966. Bud Bushnell purchased the rights to a lift that used compressed air to raise and lower the platform. Customers were impressed by the "magic" of the machine and the Genie was born.
During the economic downturn of the early 2000s Genie started seeking a partner with shared values to help grow the business. This is when Genie Industries became a brand under Terex. Today Genie manufactures all kinds of aerial lifts including man-lifts, stick boom and articulated boom lifts, light towers, scissor lifts and telehandlers.
Snorkel
With the mission to achieve world-class products, safety, service and value, Snorkel was founded by a man named Art Moore in 1959. The very first Snorkel lift was used by firefighters and allowed them to reach heights up to 85 feet with their hoses. Now Snorkel lifts are sold and serviced across the globe. They have five manufacturing plants and over 200 distribution locations in over 50 countries worldwide.
The Snorkel A46JRT came in third for the Roads & Bridges Contractor's Choice Award in both 2017 and 2018 and proudly participates in the aerial lift industry in a number of associations.
Potential Hazards & Safety Protocols for Boom Lifts
A lift takes the operator and worker high off the ground. Falls are one of the fatal four accidents recognized by OSAH in construction. Working at a height should be taken seriously and a worker should never become too comfortable working off the ground.
The boom machine itself poses potential hazardous situations and, like with any kind of heavy equipment, should be handled with care. Never operate a boom lift if it is not safe to do so and always wear a safety harness.
There are few common hazards that are associated with boom lifts aside from falling. They are tipping, pinning, dropped objects and electricity.
Tipping
As soon as a machine raises material - or in this case people - up into the air, the center of gravity is thrown off. Boom lifts are made to reach out and lift up materials and people and are incredible stable machines. However this does not mean that they are immune to tipping.
To avoid tipping a boom lift, always survey the jobsite before beginning to work and test to ensure the terrain is solid especially after rain or a storm. Wheels can become stuck or sink which poses the threat of tipping the machine or knocking off the operator. Never exceed the maximum weight and range of a boom lift and always use personal protective equipment (PPE).
Pinning
Boom lifts are created to take operators to new heights but there are new kinds of obstacles that live in the rafters. Overhead beams, moving against walls and working under ceilings can create the hazard of pinching.
To avoid pinching, always keep arms and legs inside the safety railings. Maneuver the bucket slowly and never work along.
Dropped Objects
When working on a boom lift it becomes your responsibility to keep those under you safe as well. Dropping a hammer from above can cause serious injury to those below a boom lift platform.
To avoid injuring those below you always secure equipment and materials when working at heights. Use all the safety features and tools available and do not skip steps to "save time". Always put safety first.
Electricity
Working at heights can often mean working on electricity projects or near wires. Electricity is silent and can be very deadly. Electric workers are aware of the dangers but those not used to working close to electricity may overlook or not be fully aware of the dangers. Look at site plans ahead of time to analyze the location of electric wires. Always treat wires like they are live.
Examples of other steps to take to ensure safe operation of a boom lift are:
- Knowing where the lift emergency stop and lowering measure is and how to use it
- Never operate a lift alone
- Always wear safety harnesses and other PPE
- Secure all tools when working on a raised platform
- Never work a boom lift with another worker standing under the platform
- Use a boom lift only if the base is on even and stable ground
- Survey the area up in the air where the operator will be working for exposed wires and other potential hazards
- Request proper training and never operate a boom life if you do not know how to do so
The History of the Boom Lift
Ladder or scaffolding used to be the only way to get to new heights. Scaffolding is not easily or quickly erected, nor is it a good option for a quick project. Ladders do not offer the same work platform and are better suited for climbing from level to level over standing and working on. Either option was never the safest or more efficient.
The very first boom lift was invented by a Canadian orchard worker who was working to move from tree to tree to collect fruit. His workers needed a tool that was more safe and quicker than a ladder. Walter E. "Ted" Thornton-Trump attached a bucket to the end of a double-boom hydraulic arm and put it on a wheeled platform. In 1951, Ted's "Giraffe" was born.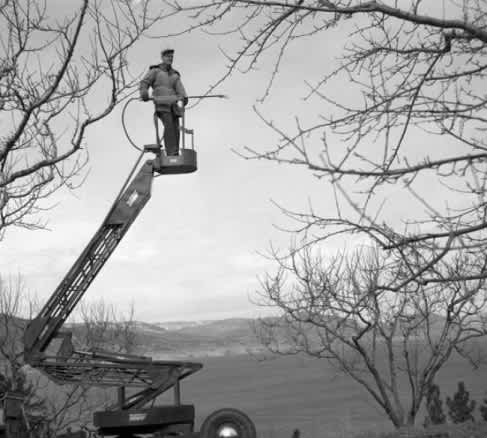 The term "cherry picker" came from this invention. The new boom was attached to a tractor and pulled along by the other machine. It was five years later that Ted invented the first self-powered Giraffe. From this original invention came 14 other models of lifts. Ted invented them all with specific purposes in mind and were specialized for firefighting and orchard work among other industries.
Ted's concept was built upon by John L. Grove who then went on to found the company JLG in 1973. John went on to patent 60 additional designs for boom lifts and expanded the market into construction and other labour industries. In 2015, JLG introduced the world's larger boom lift. Able to carry up to 1,000 lbs the 185-foot boom could reach the same heights as a 17-story building.
Since then boom lifts have grown to become a staple in many industries. A multi-use tool that brings workers to new heights, a boom lift is a helpful equipment piece for a variety of projects.
Boom Lift - FAQ
What are boom lifts used for?
Boom lifts are used to lift people and materials up into the air. Depending on the boom type - straight or articulating - it can also be used to maneuver obstacles and round corners. A boom lift is mainly used to reach out and over opposed to a scissor lift which is mainly used to lift up.
What size of boom lift do I need?
Boom lifts are categorized by platform height and boom type. The "size" of boom lift will be determined by how high a platform should reach and whether a straight or articulating boom is a better fit for the job site.
How do boom lifts get their name?
There is no clear reasoning as to why a boom lift got its name. Originally called a Giraffe and then a cherry picker, the term "boom lift" is derived from the resemblance of the machine to an arm on the human body. A "boom" is a term used to describe a variety of long beams that extend outwards or at an angle. A "boom" is a beam on a sailboat's mast as well as a term used to describe a movable arm on a tv or movie set that carries a microphone or camera.
The term for both TV and for the boom lift most likely comes from the sailboat origin. That term was established in the mid 16th century. The function of a moving and rotating beam or arm most likely transferred from sailing ships to everything else. A first use of a boom mic is noted on the site of Beggars of life in 1928. Since the boom lift was invented after this, the progression from sailboat boom to boom mic to a boom lift can only be assumed.
Can boom lifts tip?
A boom lift can tip just like any kind of heavy machine or vehicle. An operator should always take proper precautions and follow safety protocols to ensure that the machine remains stable and safe at all times.
Can I rent a boom lift?
Boom lifts can be rented. Search for the boom lifts you need on CITY EQUIPMENT to find the best boom lifts to meet your needs.
How long can I rent a boom lift for?
Boom lifts can be rented for daily rentals all the way up to months or multiple months. Basically boom lifts can be rented or as long as you need one for.
How much does it cost to rent a boom lift?
The price to rent a boom lift varies depending on the size of the boom you need, where you request the rental equipment, and the length of the rental. Use the CITY EQUIPMENT search platform to view all price options in one place and with one search. Or give our sales team a call at to get some help finding the best boom lift for your project
Start a new search on CITY EQUIPMENT.
Copyright © City Equipment, LLC. All rights reserved.